Raiders of the Lost Bomber
 SCUBA Diving On the Submerged Wrecks of Thunderball and Never Say Never Again    
By Donald Grant
Marriage Bond Style
Approximately ten years ago in 2000, I travelled to Nassau, Bahamas for my honeymoon after a very Bondian wedding replete with Morning Suit a La George Lazenby and Satchmo's We Have All The Time In The World as our wedding song.  As you might have guessed, my wife is a very understanding woman.  She knew my fascination with James Bond right from the get go and that several Bond movies had been filmed in Nassau, including one of my favorites Thunderball.  Our honeymoon was not only to be a sun and sea soaked enjoyment of each other's charms but also an archaeological style search for locations used in Thunderball and to a lesser degree Never Say Never Again.  The locations included in the plan for location reconnaissance were the steps and sea wall where Bond does surveillance of the SPECTRE rendezvous point (now a part of the Atlantis Resort on Paradise Island), Rock Point, the estate once owned by the Sullivans that doubled as Palmyra, Love Beach where Vargas "gets the Point", the Fiona Volpe Mustang drive location on West Bay Street and lastly the remains of the Vulcan Bomber.  I was able to visit just about all the locations and even gained access to Rock Point/Palmyra (http://www.ajb007.co.uk/topic/35156/palmyra-and-the-sea-wall-in-2000/) and also obtained a topographical map of it.  However, when it was time to go SCUBA diving with Stuarts Cove's Dive Bahamas, I was told that diving the "Thunderball Wrecks" was subject to the choice of the dive master, weather conditions and the choice of the majority of the divers on the boat on that particular day.  Needless to say, although I was able to accomplish a dive in Nassau, it was not on the "Thunderball Wrecks".  Awe phooey!
Ten Going On Twenty
Fast forward to 2010.  My tenth wedding anniversary was rapidly approaching and my wife and I thought about and then set about planning a return trip to Nassau.  As the trip became a reality in terms of hotel reservations and airline tickets, I thought about what Bond sights I would try to see when we visited again for our anniversary.  No doubt, some of the new filming locations from 2006's Casino Royale were on my list, but that paled in comparison to my deep desire to SCUBA dive on the remains of the Thunderball Vulcan Bomber mock-up.  I made some tentative calls to Stuart Cove's Dive Bahamas and found out yet again that diving the Bond Wrecks on any given day were not guaranteed and that such a dive was subject to the choice of the dive master, weather conditions and the choice of the majority of the divers on the boat on that particular day.  Awe come on!  No way was I going to embark on another dive only to find out I was going to dive some such reef or other.  Maybe some other dive shop could help me?   No dice, Stuart appeared to be the only remaining game in town.  So I shelved the idea of diving, maybe next time.  It would give me more time with the wife.  Yeah right, wasn't happening, my mind would not let it go.  That faux Vulcan Bomber haunted me, there had to be a way!  I dialed up Stuart Cove's Dive Bahamas yet again and pressed hard this time.  I was told the only way to guarantee the dive on the Bond Wrecks was to purchase a private charter.  A private charter?  Yes, a private charter.  Bloody hell, how much is a private charter?  It costs $$$$.  No "freakin" way, that's several times the price of an ordinary dive!  Dive shelved yet again.  Vulcan bomber daydreams and Vulcan Bomber nightmares ensued.  How much did they say for the private charter?  Screw it, I can do that.  Nothing but a chicken wing on a string.  As they say you only live once, or was it twice?  So I booked the private charter to dive the James Bond Wrecks.   Damn cool!
International Orange
As a consequence of booking the dive, I decided that I wanted to do it in true Bond style.  I needed an orange wetsuit jacket similar to what Sean Connery wore in Thunderball.  The wetsuits worn in Thunderball were all made by Voit and had a smooth skin.   Vintage Voit scuba suits are like hens teeth to find in good condition and even harder to find in international orange; so much so that several years ago I contacted JMJ Wetsuits in Torrence, California about making a custom smooth skinned wetsuit in international orange.  JMJ makes a smooth skinned vintage style wetsuit in black.  Unfortunately, the smooth skinned neoprene in orange was the main problem, because neoprene manufacturers no longer make it in that color.  Perhaps with a group order large enough for the neoprene manufacturer to make a run of smooth skinned orange neoprene it could be done.  That would not be the case this time.  So instead I contacted JMJ Wetsuits to order their "Old School Surf Jacket – Style 2306″ and provided them with my measurements dutifully taken by my wife.  I customized the jacket by ordering it in rough skin international orange, changed the diagonal zipper to a center zipper, added arm zippers and kept the twist lock closures instead of opting for the Velcro closure at the groin.
White Boy Shorts
While my wetsuit was being made, I set about trying to find a pair of white swim trunks that were similar to the ones worn by Connery.  That search proved somewhat difficult not because of the cut, but because of the color.  I was able to find many contemporary vintage style square cut bathing suits, but none in all white.  I found designer versions in white but with stripes on one side or with piping or some other such addition that made them not quite right for my planned Bondian dive on the Vulcan Bomber mock-up.  Then I found Don Mitchel Swimwear.  They offered a square cut pair of men's swim trunks in all white with no additional adornments called the DM-2020.  I ordered them via telephone and had them within three days.  When they arrived I tried them on and became concerned about how tight fitting they were, they looked like those undergarments women call boy shorts.  The trunks would be fine with my surf jacket, but not for running around Nassau like Bond does with Fiona Volpe, not on my frame.  Moreover, I did not think my wife would like to see my rather, heh, heh, protuberant masculinity on display in such a gross fashion.  I needed a more contemporary pair of white trunks to go with the shirt I had in mind.  So I set about looking for another pair of white trunks for night duty.  After several false starts, I found the perfect pair of Tommy Hilfiger surf trunks at my local Macy's department store.  The trunks were not strictly what Bond wore in Thunderball, but I would feel much better wandering around downtown Nassau and Paradise Island in them.
"CAN YOU HELP? Please have a look at our unidentified photo page, and contact us if you have any information about any of these pictures – thank you! Identification of much of the material is quite difficult, as it relies mainly on what my father can remember! Most of the photographs are not annotated in any way, and identification of some of the locations has proved tricky."  From Louise N. http://shipofdreams.me.uk/pinewood/index.htm".*
The Name's Perry, Fred Perry
One of the coolest clothing items worn by Sean Connery as James Bond in Thunderball was the navy blue Fred Perry pique tennis shirt with white laurel logo on the left breast.  The trip to Nassau would not be complete without one.  Although I had several copies of this shirt including a brand new unopened one, I had put on sufficient enough weight over the years that I needed a new bigger one.  I have never been able to find this specific shirt in the United States.  True, Fred Perry does have stores in the United States, however the solid colored shirts available generally have a contrasting color on the sleeves and collar.  Bond's shirt was solid blue; the only contrasting color was the white laurel logo.  Not a problem, I ordered the shirt from Fred Perry dot com, which is based in the United Kingdom, and had the shirt within three or four days.  It would be the perfect accompaniment to the white trunks.  Some have speculated that because Bond wears Fred Perry, he has Mod sensibilities because the shirts were adopted by that working class British subculture during the late 1950's.  Perhaps, but Fred Perry himself represents the best of Britain since he was the world's number one player for five years and is considered by many to be one of the greatest male players to have ever played the game.  Perry won Wimbledon three times and is one of only six men in history to have won all four grand slam tennis events.  However you view Bond's choice of the Fred Perry, it's a rather expensive shirt, beating out my personal favorite Lacoste in terms of price.
Of Vice and Men
In the movie Thunderball, Connery as Bond spends a good deal of time with his feet in what I'd like to call magic espadrilles.  They are magical because you'll see him exiting the water in more than one scene bare footed only to end up moments later with a pair of grey espadrilles on.  Espadrilles are a type of casual shoe made of rope soles and canvas uppers originating from the Pyrenees and originally worn by peasants.  Men's espadrilles had a wildly popular resurgence during the mid to late 80's because they were worn by Don Johnson and Phillip Michael Thomas as James "Sonny" Crocket and Ricardo "Rico" Tubbs in Miami Vice along with pastel colored T-Shirts worn under deconstructed Armani jackets, linen pants and designer stubble.  What I like to call the "Miami Narc Look".  I needed a pair of grey Espadrilles to complete my Connery/Bond look.  Like it or not Connery made wearing espadrilles manly.  I never owned a pair of Espadrilles before.  I missed the "Miami Narc Look" because I had been firmly entrenched in prep school attire mainly because of a father who shopped at Brooks Brothers and Paul Stuart and because of having attended an ivy covered pile of rubble otherwise known as a New England Prep School.  My sandal like shoes of choice had always been Sperry topsiders, L.L. Bean's Camp Moccasins, or those oh so comfortable reef runners for wet/dry occasions.  As I began looking for a pair of espadrilles I discovered that most of the offerings were available outside of the United States.  That would not normally be a problem; however I waited for the last minute to buy the espadrilles.  Shipping from Europe or any place outside of the U.S. would take too long.  Then I discovered that Urban Outfitters sold men's espadrilles and in the correct shade of grey.  Order placed, espadrilles delivered, problem solved.
The Dangerous Depths
I learned to scuba dive on at least two occasions, but I finally became PADI open water certified in Guam while working as an Officer on a Merchant ship.  Nevertheless, the last time I had gone scuba diving was ten years ago on my honeymoon.   Because I spent many years of my life in the maritime environment, I know that the sea can be a very unforgiving place, particularly to the untrained and unwary.  So I set about trying to find a PADI refresher course.  It turned out to be relatively easy and I found a location with its own pool that gave the course at night in one evening.  All the basics were gone over prior to entering the pool including hand signals, buddy breathing, entry techniques, proper weighting, use of the BCD and mask clearing.  Once that was done, we entered the pool and put to use what I had been refreshed in verbally.  All in all, excellent training that I would highly recommend to anyone who has not gone diving for many years.
Sea Fever
I scheduled my dive for the afternoon of my second day in Nassau.  Scuba diving should not be done within 24 hours of flying because of the effects of pressure on the body.  When the Stuart Cove's van came to my hotel to pick me and my wife up, I was fully prepared with all my gear ready to go.  It was a short trip to Stuart's which is located on the south side of the island.  After checking in at Stuart Cove's, it turned out that my diver had had trouble equalizing her left ear.  So a switch was made to Ryan Banks.  I was given about 15lbs of weight for the dive from the dive locker as well as my regulator and boarded my boat and introduced my wife and myself to the boat captain/dive master, Stephen Stuart.  As we headed out to open water I reflected on my years at sea and the various "ports-o-call" that I had been to, the beautiful women I had known, and the many sea stories that I had heard.  As my mind turned these bits of memory around, I stumbled on the index card in the rolodex of my mind marked John Masefield.  Sea Fever, that famous poem by the great British Poet Laureate of his time came flooding back:
"I must go down to the seas again, to the lonely sea and the sky,
And all I ask is a tall ship and a star to steer her by,
And the wheel's kick and the wind's song and the white sail's shaking,
And a grey mist on the sea's face, and a grey dawn breaking.
I must go down to the seas again, for the call of the running tide
Is a wild call and a clear call that may not be denied;
And all I ask is a windy day with the white clouds flying,
And the flung spray and the blown spume, and the sea-gulls crying.
I must go down to the seas again, to the vagrant gypsy life,
To the gull's way and the whale's way where the wind's like a whetted knife;
And all I ask is a merry yarn from a laughing fellow-rover
And quiet sleep and a sweet dream when the long trick's over."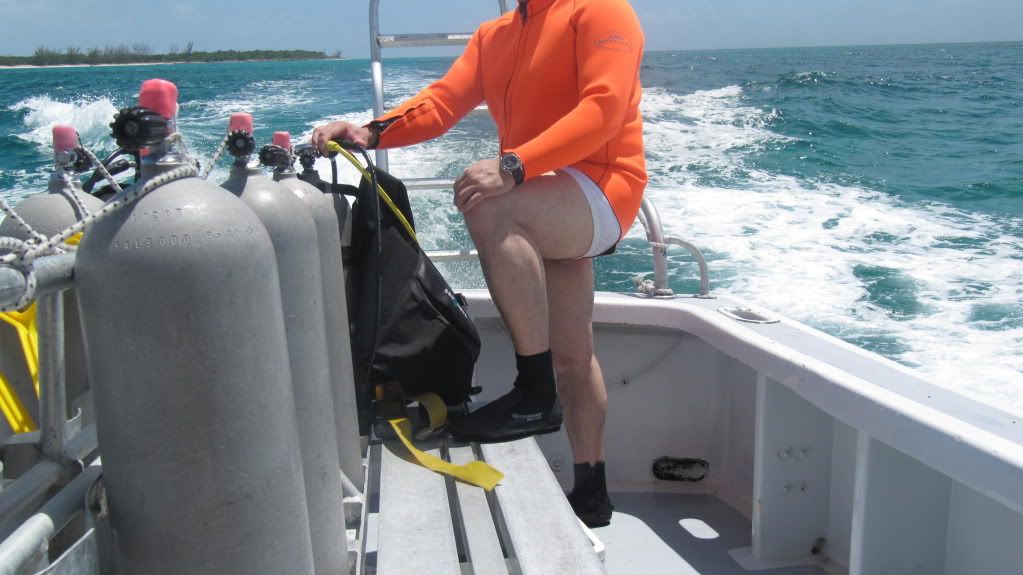 Yes, I missed the sea, that sometimes cruel mistress.  But I knew deep down that one day I would return to her one way or another. 
Smugglers Blues – The Tears of Allah
After a short trip heading South and then West along the coast, we arrived at a mooring buoy that was tethered to the bow of the vessel named the Tears of Allah.  The Tears of Allah was the sunken vessel that Connery/Bond dives on with Fatima Blush and is later attacked by a tiger shark.  She began life as a 92 foot supply boat that was used as a drug smuggler and was subsequently confiscated by authorities.  She was later sold to the movie producers and sunk as a prop for the movie Never Say Never Again.  While my vessel was being moored, I began donning my gear.  First my vintage style beavertail dive jacket, U.S. Divers dive booties purchased at the Naval Exchange in Guam way back when, followed by my BC and tank, mask and snorkel and lastly my fins.  I was first in the water doing a seated back roll entry followed by Ryan.  We swam to the bow of the vessel with Ryan in the lead and slowly descended down the mooring line.  As we travelled down the line, I set the timing bezel on my Omega Seamaster Planet Ocean so I could measure elapsed time.  At about 15 feet my left ear would not equalize and I felt the pressure and pain.  I signaled to Ryan and he simply cocked his head to the left and then right.  I mimicked his motions and my left ear popped and equalized.  We slowly continued descending the mooring line.  Twenty, twenty five, thirty, thirty five and then forty feet!  At about forty two feet the bow of a long cigar shaped wreck appeared more clearly in the mist.  Yes, there it was!  The rotting hulk of The Tears of Allah as it had become known.  The bow of the wreck pointed in a westerly direction and was listing ever so slightly to the port side.  We traversed the starboard side heading easterly.  We came around the stern and headed back west down the port side.  When Ryan and I approached the Bow, we crossed above the bow and headed in a northeasterly direction.  What I had really come to see lay directly ahead of us shrouded in the chasm of the eternal sea.
Donald Grant Jones and the Temple of the Sunken Vulcan
After swimming approximately 100 hundred yards in a northeasterly direction we came upon what looked like a big mossy patch.  Upon closer inspection I discovered what looked like giant set of monkey bars covered by all manner of gorgonians, sponges and invertebrate life.  Because I had seen pictures of the Vulcan Bomber prop set in its present state, I knew that this was it.  But it took more than a moment for it to set in.  I had re-discovered one of the lost temples of Bondiana, Indiana Jones Style!  Cue the ultra cool Thunderball soundtrack. 
To the uninformed, the mock up of the Vulcan Bomber is hardly recognizable.  All that remains is the metal framework because after filming, it was blown up with dynamite and primacord**.  This was done by EON to prevent it being used again by other filmmakers.  What was recognizable were the wheels and flaps.  They were, for the most part, still intact.  If I did not have foreknowledge that this was the remains of the bomber, the wheels and flaps would be the only thing that could positively identify it.
As we swam over the wreck, I stopped at the starboard wheel and dug up some sand that I placed in a Ziploc baggie.  This, apart from photographs, would be my souvenir of the dive.  But, I had miscalculated.  The sand in the seawater was hard to corral.  Every time I tried to put some in the baggie, most of it would simply escape causing the water to silt up and visibility to decrease greatly.  After toiling at it for what seemed like forever, I felt I had retrieved enough for my purpose.  I would keep some for myself and give the rest in small vials to good friends in the hobby.  The remaining wheels of the Vulcan were buried deep in the sand with only the tops of the rubber tires showing.  As we continued swimming over the wreck, I paused at the nose while Ryan took my picture.  The front wheel assembly was completely gone, as the nose of the Vulcan was resting on the bottom.  After swimming over the wreck for what seemed like a very short period of time, Ryan signaled that it was time to go back.  I heard the strains of Tom Jones singing Thunderball in my head as we set off to swim the gap separating the Vulcan and the Tears of Allah.
Ascent to Shrublands
As we approached the bow of the Tears of Allah we began to slowly ascend grabbing the mooring line that was tethered to our vessel.  At fifteen feet we stopped (a safety decompression stop) to allow the nitrogen in our blood to dissipate.  I glanced at the big Planet Ocean on my wrist with the oversized rubber strap.  The elapsed time bezel told me we had spent approximately 23 minutes on the bottom, and my depth guage registered a greatest depth of 43 feet.  After about 3 minutes we continued our slow ascent being careful not to rise faster than our bubbles.  When we reached the surface I inflated my BCD and I removed my regulator and began using my snorkel.  Ryan motioned to swim to the stern of the vessel and I followed.  Once at the stern, Stephen told me to remove my fins before climbing the ladder.  As I struggled to remove my fins, I must have over exerted myself because when I got on deck and removed the rest of my gear I felt totally exhausted.  I collapsed in a spent pile next to that beautiful "bubble watcher" known as my wife.  I was way out of shape.  A simple 43 foot dive had reduced me to a wet clump of guano.  The M in my mind's eye chastised me for being so unfit.  Time to get to Shrublands!
*Louise N.'s grandfather William Creighton worked as a model builder at Pinewood Studios and on at least two Bond movies, Thunderball and Goldfinger.  Creighton built the Fort Knox scale model on Goldfinger.   Louise needs more information on her grandfather's involvement with Pinewood and the Bond Movies.  Please contact her through this address: http://shipofdreams.me.uk/pinewood/index.htm
**Found on the second audio program of the Thunderball Special Edition DVD.
Article Copyright © November 2010 Richard Dos Santos
Stuart Cove's Dive Bahamas Thunderball Wrecks Video: http://www.youtube.com/watch?v=x0j8AcSxBWg